My Interview with Janis Anton
All photos by me; all artwork Janis Anton.
Earlier this summer I sat down with my friend and fellow artist, Janis Anton. We met years ago at the Hive in downtown Oakland. Much to my happy surprise, Janis was occupying the studio next to mine when I joined Faultline. We often visit each other, chatting about life and art and work- she always has great insight (with a comforting hint of Tennessee charm).
I have often been impressed with her mastery of watercolor, but what's particularly interesting about Janis' practice is a constant willingness to be challenged- with materials, textures, or subjects. Recently, Janis has been working on a series of paintings that include (among other things) "pods": elongated, organic forms that evoke a somewhat eerie feeling. After pouring mimosas, we got into one of our usual long talks.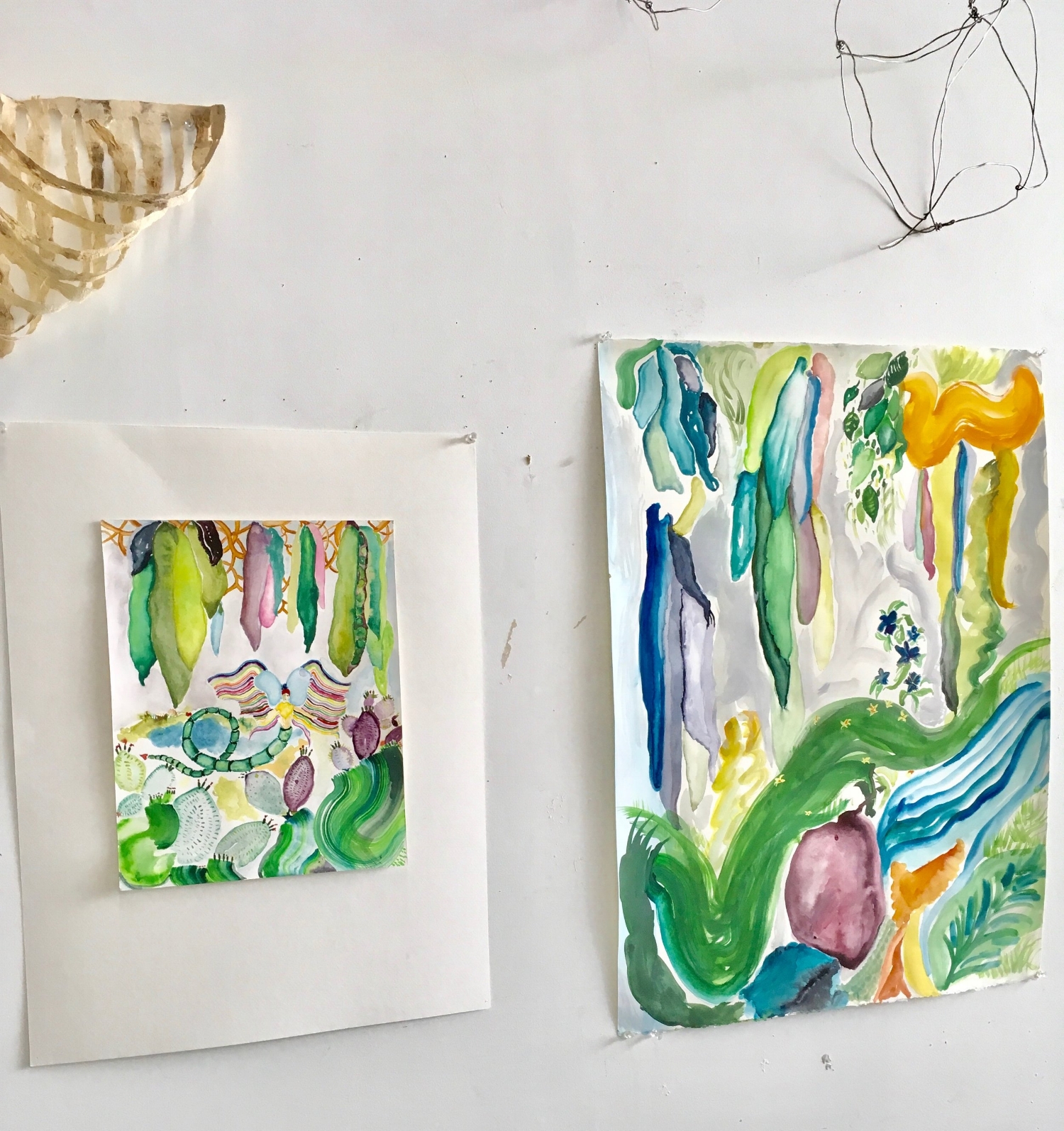 You were saying about the pods...
Yeah, I do really well when you get me alcohol for this.
Good because either we would talk more or we'd fall asleep.
I know! Well, sleep could be near but not for a while.
Ok we're good for a while. Keep drinking!
I don't know... I have this sort of multi-project thing and so I've finally given into the fact that I will have a number things going at the same time.
Have you always been that way?
Pretty much. Well actually, I had a painting teacher in school and I was struggling with this one small, tiny painting -it must not have been more than 8 by 10- and I had it on this huge easel and I was standing there… [the teacher] said you need to be working on more than one piece! And it was like this explosion of possibilities.
 
There is no turning back... You're still in the middle of this big dark wood where the only way out is to paint
Don't you get into that mode where you don't realize what you're doing? I remember I had a teacher and I was painting and I kept struggling and going back and forth to the palette and he finally came by and said, just get a bigger brush! I wasn't even thinking I was just trying to struggle.
I know. I think there's something about focus that has a dark side to it. There's so many of those things to learn when you're learning to paint. It's way more complicated than I imagined and I'm kind of glad I didn't know. There's something to be said for walking into the dark forest with a bunch of breadcrumbs and not knowing there are birds. And I guess that is kind of what art's been like. There is no turning back. What else are you going to do? You're still in the middle of this big dark wood where the only way out is to paint- you have to do something.
What I notice about your work is that you seem to love materials and especially paper- actually the first thing I notice about your work is color- but you seem to start with texture. When I come in here and visit, you're always showing me a new piece of paper.
There's something about paper- there's just a million kinds. One of the art stores used to have their paper where it stuck out a little bit- and with clean hands I swear- it was so wonderful just to walk by without looking and let your fingers feel the textures, and it's just… it's just this extraordinary thing. I get drawn to weird paper and I want to make it work.
Now how did the pods come about? Was it kind of an organic process? Was it something that just happened or was it something you wanted to represent before you started?
A lot of it was taking walks. I was walking and I taking photos along the way and I found this tree- it did have these pods on it and I absolutely loved the shape of them so I took a couple of pictures. They're such a good vehicle for that watery quality and you can move pigment then if you really lucky you get these little accidents. I like what they say to me. Without too much effort I can give them some three dimensionality. I'm really trying to play between flatness and volume so these have been just this nice vehicle.
What's interesting to me is to come in and see them- they're almost gestural and weird in a good way. They really draw your attention.
I love strangeness. It offers this really nice way to play with colors. I'm now back to kind of struggling with composition it's like this rhythm. I seem to get the color and I lose the composition and then I get the composition and the color's going wild. So I guess it's really problem-solving.
There's always a different way to do it, and if you can break the rules it's even better.
What do you do when you come across these challenges? What's your M.O.?
I had a painting class at Laney College- say what you will- best instruction, cheapest price! Carol Stone had collected all these art calendars and she would put them out and said this is how a Japanese artist managed this, this is how a minimalist manages this… so you would suddenly see the same problem approached and then for group critique there would be this sort of discussion about what you could do. That habit is still with me.
Knowing that there are different approaches to the problem…
There's always a different way to do it, and if you can break the rules it's even better. I can't help when I'm in a museum I look for how they break rules.
I love it when [breaking the rules] works- those rare moments- it's such a triumph!
It's really nice because then you're really working that problem. I [break rules] toward the end. And watercolor has this end.
Watercolor is a very brave medium to undertake because there's not a lot of room for error.
There is kind of an almost unstoppable rule that four different colors and then you have mud- and not very attractive mud. I'm beginning to get a feel for it but I do kind of keep that in mind- the decisions need to be made a little bit earlier and your responses are little bit more limited. I like pushing those boundaries. I've been looking at modernist paintings. They're beginning to look at women's work now, and some of those women were just fantastic. You see them working through issues and getting completely different results. That women's show in Denver- I could have just stayed there for hours. That's the league I want to belong to. I really do. When I was taking my first couple of painting classes I thought I want to be in the Whitney! And don't get me wrong, I wouldn't turn it down! But it's really not my goal.
I think anyone who's still working right now as an artist would say the same thing- it's about being here and working. it's not as glamorous as it you might want it to be.
I don't work with any delusional goal of extraordinary fame, not that if it rolled down the hill I wouldn't pick it up and run. It would be fun. I would so love that! And yeah that would really be nice but that's really not close enough to think about. and it makes day-to-day work really hard. I think that fantasy is not good for me.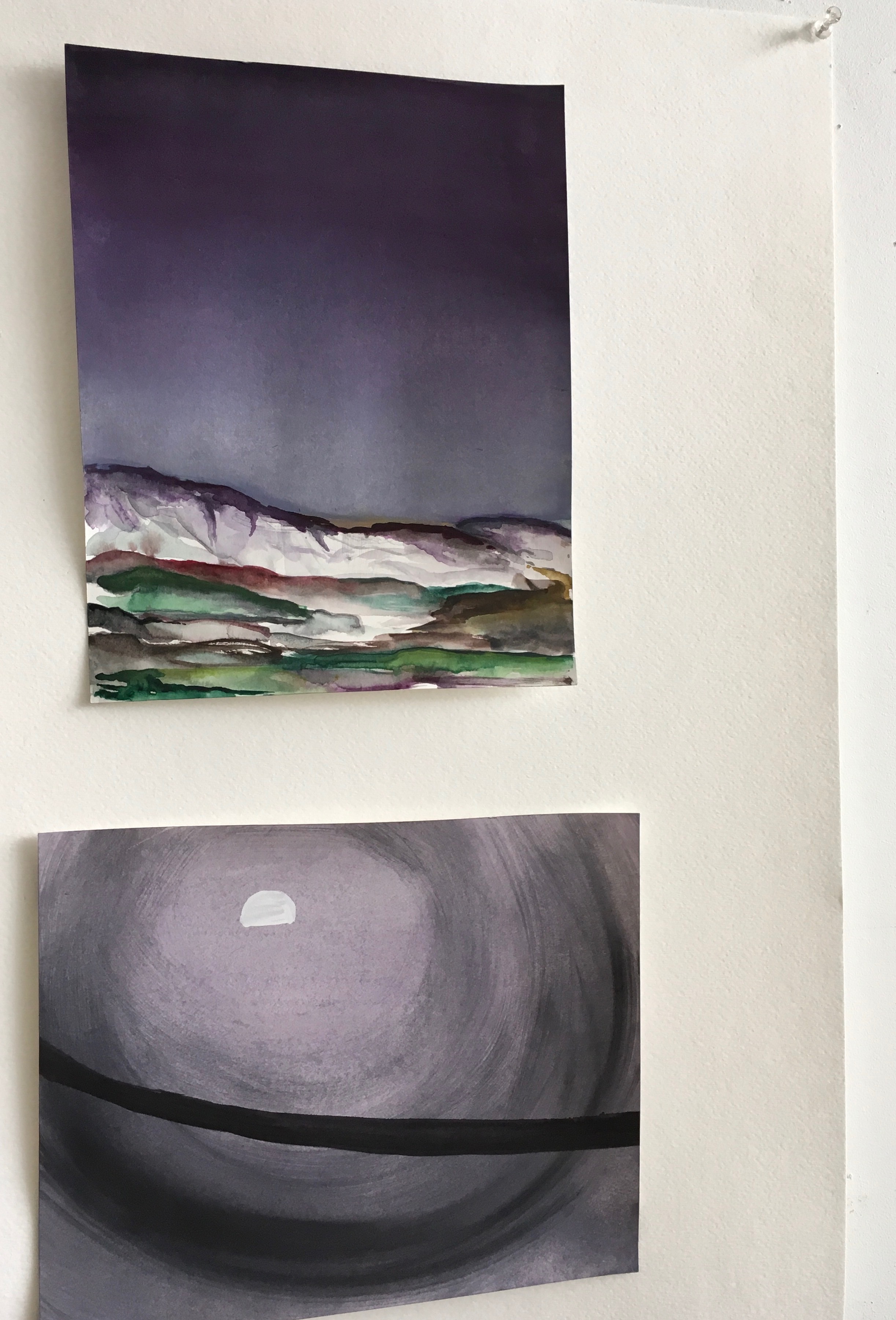 I don't know when you give up. I guess I never will.
So what's been your biggest challenge just getting here? Whether that was years ago or now, were there challenges around keeping the practice?
There was some challenge about keeping a practice and that remains. But that part is getting much easier . I really like being here. I let go of worrying about other things and I've accustomed my entire social life to know I'm at work. When I go out to lunch with the girls I point out that I did take off work. I think in all honesty the biggest worry is moving my work out there, and getting back after I'm disappointed. I really quit entering competitions for a year. I'd become devastated and I couldn't work for a week or so. I thought, this is counterproductive.
If that's what you're focusing on instead of the work…
I'd think, but that was my terrific work! I'd look at the show and think it should've gotten in. I spent some particularly mortifying time going to shows I didn't get into.
That's brave of you too. You're such a brave person!
Oh no, I snuck in like a little mouse and no one knew that I was there. A couple of times I thought, wow, this is really above my pay grade, or I really didn't read [the prospectus]. It was incredibly hard on me and more so than it should have been. I don't know when you give up. I guess I never will.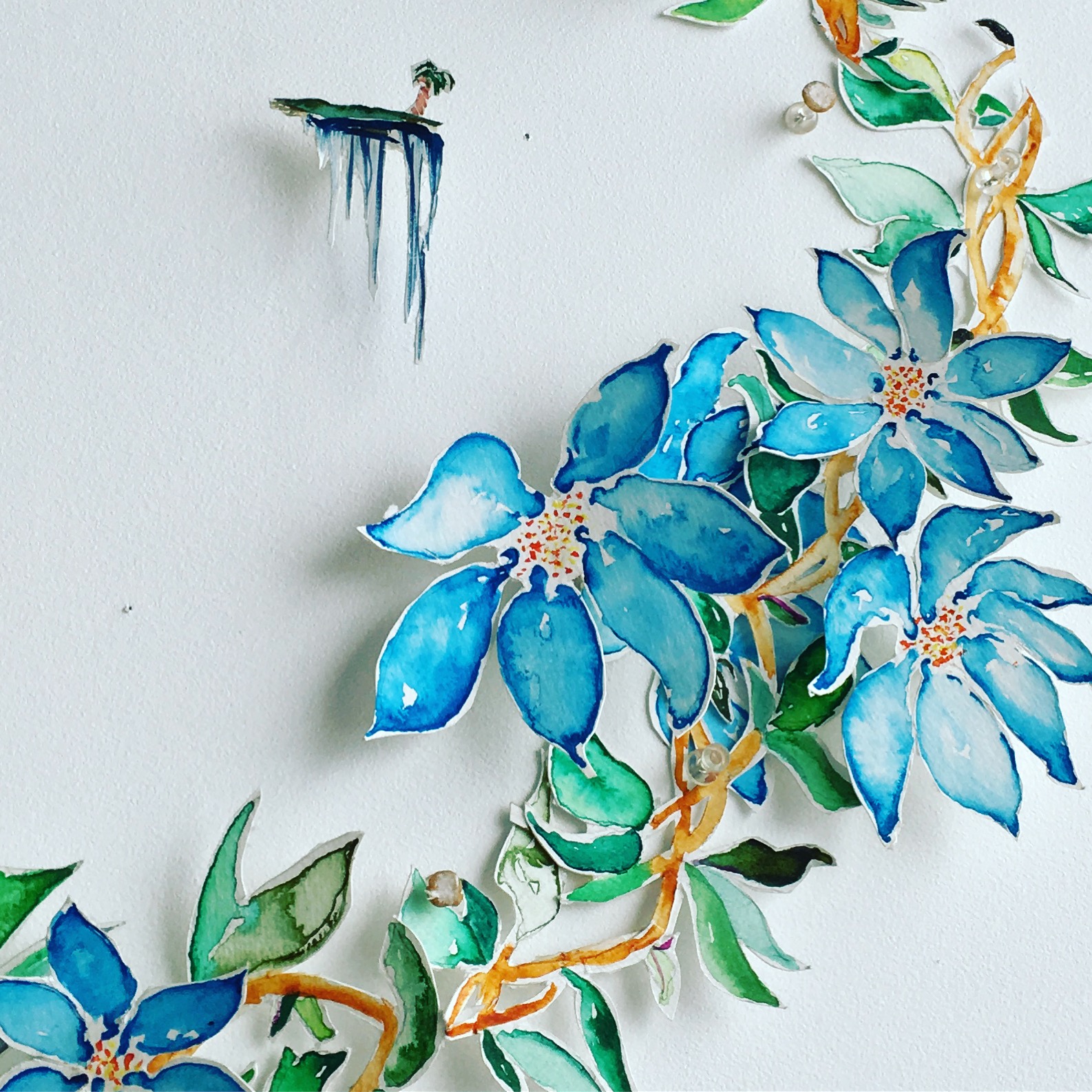 There's a fine line, and I think a lot of us walk it sometimes, between saying, "this is it- forget it- it's all rigged…"
I see artists doing that and I think it can affect your work. I kind of "whistle a happy tune" but I think you have to. That year I took off applying gave me a little while to stop and think about what I really wanted. What I really want is for these paintings to go live somewhere else. I want them to live with someone who loves them, who wants to look at them and have a conversation when I'm not there. so this selling part has become very different kind of thing and I approach it a little differently.
I always want to get to the point where I'm above it and I don't need it, but It's always nice to have validation.
There are various paths of validation . How can you not need that? You're alone in a studio- you're involved in this conversation- I swear to god that [word] drove me crazy in art school- but it's the best way to say it. You're involved in this conversation that is sort of going over this delayed channel. And your work goes out there in this delayed time. You just have to put it out there and see what happens and you have to listen to the rest of the conversation. It's trying to be a part of that. That conversation thrives on authenticity.
I like to look at your work and the other artists here and authentically give them my validation too.
Well is there anything else you want to say Janice? Words of wisdom?
Thank you for alcohol in the morning and an interview. Cheers!